Howard Head Sports Medicine
The Westin Riverfront is proud to announce the arrival of Howard Head Sports Medicine to our Resort. Patients will be able to receive innovative physical therapy techniques from highly gifted therapists while vacationing or while in residence at The Westin Riverfront. Past injuries often have a way of reappearing after a long day on the slopes, and we want to give our guests every opportunity to enjoy their vacation at our resort. Colorado is a "direct access" state, which means our guests can visit a Howard Head therapist without a prescription from their doctor.
Let our award-winning resort be your home base as you recover from surgery or injury. Our guest residences range from Studio Suites to three-bedroom condominiums, and all are equipped with Signature Westin features that will have you feeling relaxed and rejuvenated. Take advantage of our year-round outdoor pool, three infinity hot tubs, Spa Anjali and fitness center- which offers yoga, Pilates and meditation.
Transportation can be arranged for patient guests to and from Vail Valley Surgery Centers. For more Information on special room rates for Howard Head patients, please call: 970-790-2000 or 866-949-1616.
Physical therapy services available include:
Return-to-Sports Therapy
Manual Therapy
Post Operative Therapy
ASTYM
Massage Release Techniques
Trigger Point Dry Needling
Pilates Rehabilitation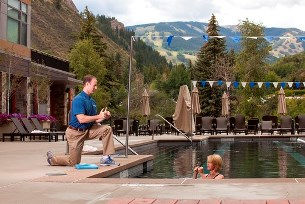 To schedule an appointment at Howard Head's Westin Riverfront location, please call: 970-845-9600 or 888-652-7640 or visit the website.
New Balance Gear Lending Program
Maintain your routine during your stay with Westin's New Balance Gear Lending Program. Learn more >>